An infectious smile, a positive and upbeat attitude and an adorable baby girl. Those are just a few of my favorite things about visiting Molly's blog, Still Being Molly! I'm a regular over at SBM and have been for quite sometime. This North Carolina blogger willingly shares posts about fashion, style, makeup, money, and more! Her blog is a true reflection of what a lifestyle blog should be. Read more about Molly below and be sure to stop by her blog to say hello! 🙂
---
ABOUT YOU & YOUR STYLE

Where are you from and what's your occupation?
I am originally from Herndon, Virginia where I was born and raised but currently live in Durham, North Carolina. I am the Director of Marketing for a company called rAVe Publications – we are a media company that covers commercial audio / visual technology. I also am a mom! I call that a job in and of itself. 🙂
How do you define your personal style?
I'm a bit of a chameleon when it comes to my style. I like a little bit of everything… with exceptions, of course. But I'm always open to trying something new. However, my "go-to" style tends to be on the more classic and preppy side.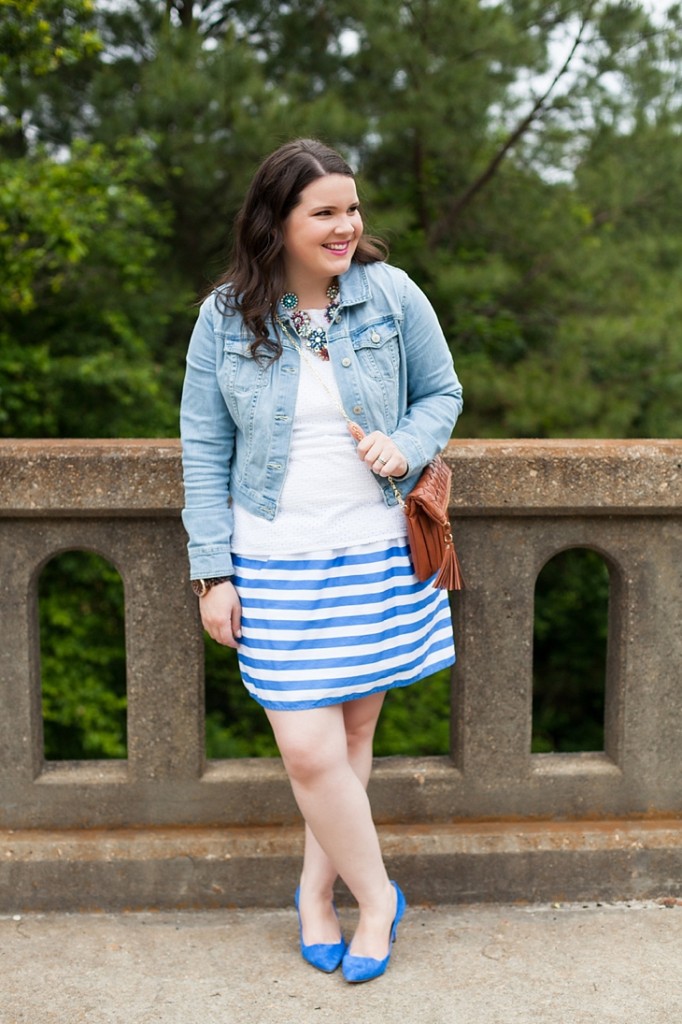 What are your 5 must have wardrobe items for the summer?
– A denim vest! I wear one ALL THE TIME! It's the perfect layering piece.
– A fun pair of bright, printed shorts.
– A comfortable, but also fun maxi skirt.
– Flowy layering tanks – the kind that can be worn with shorts, jeans, skirts, and you can easily throw a cardigan over top.
– A lightweight tunic – that's a super versatile summer piece that can be thrown over a swimsuit at the BEACH or it can be worn with jeans or shorts.
Name 5 must have wardrobe staples every woman should own?
– A denim jacket
(A serious must-have; it goes with everything.)
-A good pair of neutral riding boots
(Boots can be worn in ALL seasons, I wear my riding / cowboy boots all the time.)
-Cardigans. No woman can have too many cardigans.
– A lace dress
(To me, the lace dress has replaced the LBD…)
– A neutral maxi skirt
(Perfect for any occasion)
---
ABOUT STILL BEING MOLLY (SBM):

How long have you been a blogger?
I had a Live Journal BACK IN THE DAY (but I don't really count that… I just used to write random stuff on it). I moved over to WordPress.com from LiveJournal in 2007 right after I graduated college, and then moved to a self-hosted blog on WordPress.org in November or December of 2009 (I can't remember exactly when). So, about 7+ years or so!

What inspired you to start SBM?
I have always loved to write. I was a creative writing major in college… so a blog was naturally a therapeutic way for me to just write. I have never been good at keeping a journal, so my blog has chronicled my life for the better part of a decade. Over the years it has evolved and changed as I have and has taken on MANY different forms. I really like where it is now.
Where do you see SBM in 5 years?
I think every blogger hopes and prays (at least in the back of their mind) that they would be able to do it full time. So, yeah, there's a part of me that wonders if I'll ever be able to take this thing full time. I love it and pour my heart and soul into it and work really hard on it… so I'd love to be able to say that one day it is my full-time job. For now, I just treat it like it is. 🙂
What's the best & toughest thing about being a blogger? 
The best thing is the people that I have met through blogging. I realize that is extremely cliche to say, but it's true. I've made some amazing friends through blogging and have connected with so many awesome people some of these people are now my best friends and I never would have met them if it weren't for the blog. I love the opportunity to connect with people on such a deep level!
The toughest thing is just the natural "comparison" trap that all bloggers find themselves in eventually. It's a constant struggle to not compare yourself to everyone else out there and get caught up in the "mess" of it all.
---
ABOUT YOUR LIFESTYLE
What makes you happy & what inspires you?
My family makes me happy. Simple things like playing with my baby girl and her giggling at me or nights on the back deck with my husband bring me so much joy. I am inspired by EVERYTHING around me. I'm always taking stuff in wherever I go. I used to be a comedian so, naturally, I'm a bit of a people watcher and I observe my surroundings constantly. I draw inspiration from the guy across the street to the way a display is set up in a store.
What are 3 things you do daily to live a healthy lifestyle? 
(1) Exercise. I try my best to do this regularly and it is a challenge, but I'm working at it!
(2) Sleep! Sleep is sooooo important, especially with a baby. So I sleep whenever I get the chance.
(3) I cut back on my Diet Coke intake. It's no secret I'm obsessed with Diet Coke… so I stopped buying it to have in our home. I only have it as a treat when I'm out. That's made a huge difference! I drink SO MUCH water now!
As a wife, mother, and entrepreneur how do you find balance in your everyday life? 
Balance is a thing I struggle to find every single day and I don't have it all figured out, as much as I wish I could. It's just a matter of prioritizing each thing as it comes and taking things one step at a time and one day at a time. It's also REALLY important to realize that you don't have to (and can't) do it all.
Any advice for someone trying to find their passion& purpose in life?
Be honest with yourself at ALL times. Don't try to "fake it till you make it." If your heart doesn't feel right about something, listen to it. Trust your gut instinct. Seek counsel from your close friends and family members who will be honest with you. At the end of the day, do what you love. Who wants to waste their life doing something they hate?
---
WHERE CAN WE FIND YOU?